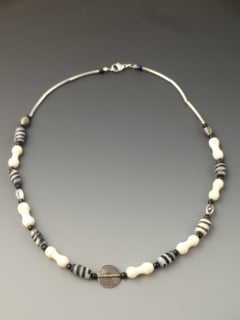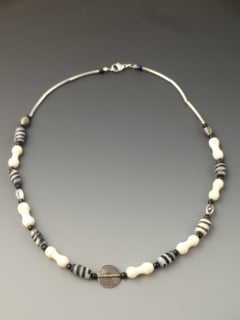 Trust Your Intuition Necklace
$125.00
Inspired by a tale told in Women Who Run with the Wolves, by Clarissa Pinkola Estes, in which a young woman uses the gifts given to her by her mother as she lay dying, to defeat those who would harm her.
Each time she faces danger, the little intuition doll in her pocket (one of the gifts from her mother) jumps up and down. Because she listens to her intuition, she is saved.
Symbols in the necklace tell the story: carved bone beads are combined with sterling silver beads: an eye, an infinity spiral. The necklace is finished off with six curved, sterling beads at the back, making it very comfortable to wear, and a sterling silver lobster claw clasp.
In a society that teaches women to doubt themselves, we need a reminder to trust our intuition, wear this necklace as a reminder to trust yours. Or give it as a gift to another woman in your life as a show of support for her intuition.
16"
Design is Copyright Elaine Luther.